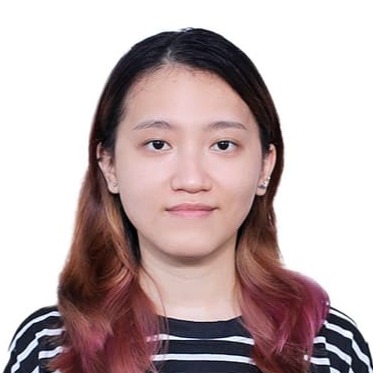 Về Anh Nguyen:
With my enthusiasm and passion, I look forward to taking advantage of my skills and knowledge to contribute to the company's team, helping the company grow and develop.
Kinh nghiệm
Customer Service
Công Ty TNHH Identalsoft Việt Nam
04/2023 - Current
- Provide support, respond and assistance foreigner (American) customers by phone and email on a daily basis
- Research, diagnose, analyze, and record customer issues and communicate solutions
- Work and interact with US members
Fashion Merchandiser
LOTTE VIETNAM TRADE CENTER JOINT STOCK COMPANY
12/2021 - 06/2022
- Responsible for sales, profit, and KPIs.
- Researching, analyzing, evaluating the market, and updating trends to identify customer needs, growth opportunities, and scope micro of the product.
- Planning and managing sales budget, inventory purchase, and managing inventory until sell out.
- Planning and executing marketing communication by week/month/season.
- Managing goods effectively: price strategy, inventory, and promotions.
- Regularly doing surveys of the market as well as competitors to see products, and displays, and find ways to exploit product groups that match the company's criteria.
Office Assistant (Intern)
Dress for success San Francisco
02/2020 - 05/2020
- Meeting with clients to determine the most appropriate clothing and adjacent pieces.
- Updating news and articles on social media.
- Receiving donations from sponsors and individuals.
- Helping maintain the store space, inventory, and warehouse.
Cashier at College cafeteria/sandwich store
City College of San Francisco
09/2017 - 12/2020
- Greet customers at the store and take orders in person and by phone.
- Handled large volume of calls on a day-to-day basis with a sense of calm and a good work ethic.
- Provided excellent service to customers by answering inquiries and resolving complaints.
- Bilingual customer service provided by phone in English and Vietnamese, assisting with customer queries and issues, troubleshooting, and processing refunds.
English supporter
Global International Cooperation and Exchange Joint Stock Company
04/2016 - 09/2016
- Performed various translation and interpretation duties from Vietnamese into English, including candidate interviews, document translation, and communication with foreign partners.
- Provided interpretation and transcription services as needed by clients.
- Develop ideas, content, and promotional plans for the company.
- Introducing, and consulting customers' inquiries directly or by phone and email.
Leader
Tan Phu Kids Fashion Ltd, Co.
12/2014 - 10/2015
- Responded to guest complaints in a professional and effective way.
- Managing merchandise and the team at the store.
- Inventory control, optimizing inventory for maximum benefit, and preventing the pile-up of dead stock.
- Make sure best-selling products are always available in-store.
- Reporting sales and being responsible for sales.
Freelance translator
Work from home
12/2013 - 11/2014
- Worked as a translation collaborator.
- Taste of Viet Nam 2 - Robert Danhi (cuisine show, 2013 -2014)
- Highland Shifter - Catherine Bybee or Tình yêu vượt thời gian - Catherine Bybee (romance novel, published in 2015)
- Translate, review, and edit translated content to ensure content language aligns with the English/Vietnamese version of the content.
- Conduct a review of all translated content to revise, edit, and proofread content.
- Determine the most accurate shades of meaning and make corrections as needed.

 
Giáo dục
Associate of Science in Marketing (2017- 2019) - City College of San Francisco
Certificate of Achievement in Fashion Merchandising (2019-2020) - City College of San Francisco
Microsoft Office Specialist (issued May 2019)
Các chuyên gia từ cùng ngành Dịch vụ khách hàng/Hỗ trợ với Anh Nguyen
Các chuyên gia từ các lĩnh vực khác nhau gần Ho Chi Minh City, Hồ Chí Minh
Những người dùng khác được gọi là Anh
Việc làm gần Ho Chi Minh City, Hồ Chí Minh
---

Philip Morris International

, Ho Chi Minh City, Việt Nam

Toàn thời gian

The OrganizationPMI is a leading international tobacco company engaged in the manufacture and sale of cigarettes, smoke-free products and associated electronic devices and accessories, and other nicot ...

---

RGF HR Agent Recruitment

Vietnam - Ho Chi Minh City, Việt Nam

Permanent

Nội dung công việc+) Chuẩn bị hồ sơ, truyền tờ khai hải quan.+) Làm thủ tục xin C/O (Giấy chứng nhận xuất xứ hàng hóa), giấy phép xuất nhập khẩu.+) Quản lý chứng từ, hỗ trợ khách hàng.+) Các công việc ...

---

Adecco Vietnam

Ho Chi Minh, Việt Nam

Toàn thời gian

Responsibilities: · Focusing on market development on Reliability Service sales, Condition Monitoring product sales, both off-line and on-line systems · To conduct on-site product training and techni ...