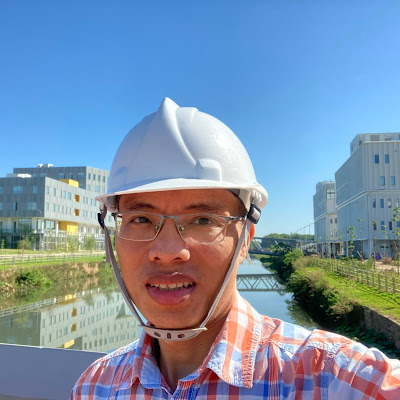 Services provided ₫350.000

/ hour
Repair and technical support (1)
Home Improvement Projects (3)
Engineering & Architecture & Builders (1)
About me:
Strong background in technical domain in general, particularly in municipal solid waste, wastewater treatment and management, and high energetic materials;
Eager to explore new knowledge and technologies, highly motivated to develop new skills and broaden experiences; 
Organized, accurate, and detail-oriented; 
Teamwork; 
Flexible and adaptable to changes. 
Experience
October 2015 – now: Vietnamese-German University (VGU), Binh Duong, Vietnam 
Key contact person (from September 2021) for the "Vietnam - Building Transition" project, by the German Energy Agency (Deutsche Energie-Agentur GmbH (DENA)) 
Key tasks and responsibilities are to consult and support DENA with: 
Access to local stakeholders 
Access to documents, laws, regulations, articles, studies written in Vietnamese or accessible only locally 
Local, professional contact for the consulate general, the developer or the regional authority 
On-site technical monitoring and control of the pilot projects 
Organization of local events and public relations work that would not be possible from Germany 
Lab Equipment Coordinator (from October 2015) at the VGU Project Management Unit 
Key tasks and responsibilities: 
Coordinating the procurement and management of lab equipment, in consultation with the university's researchers as well as German professors from the partner universities;
Specifying technical requirements for intended equipment in bidding documents and evaluating bids following World Bank's procedures and regulations as well as domestic procurement law; 
Planning and monitoring the schedules, budgets and resources of lab equipment investment sub-projects; 
WatSan/ Environmental Engineer (from January 2021) 
Key tasks and responsibilities:
Working with the team of the Facility Management on the Operating & Maintenance Concept for VGU's new campus considering the economic use of available resources and ecological aspects;
Being responsible for the effective utilization, management and maintenance of the water and sanitation (WatSan) systems of VGU's new campus;
Being responsible that all required safety and security measures related to WatSan for the installations, the equipment and the users are in place, communicated, followed and adequately monitored.
January 2003 – May 2009 & August 2014 – July 2015: Military Technical Academy, Hanoi, Vietnam
Lecturer 
Key tasks:
Teaching subjects: Explosives manufacturing technology; Safety in production and storage of ordnance, munitions and explosives; Disposal of Explosives and Unexploded Ordnance; Fundamentals of Combustion and Explosion; 
Research focus: Environmental fate of high energetic materials; Contaminated soils by explosives from manufacturing operations; 
Supervising cadets' research experiments and graduation theses. 
Education
April 2010 – July 2014: Technical University of Braunschweig, Germany 
PhD Environmental Engineering 
Focus of the PhD research: 
Mechanical biological treatment (MBT) of municipal solid waste (MSW); 
Mining of old landfill sites; 
Emissions from both MBT and MSW landfills; 
Combination of aeration and leachate recirculation in improving quality of landfill leachate and solid waste itself. 
Title of the dissertation: 
"Effects of aeration and leachate recirculation on carbon and nitrogen removal from landfills"
January 2002 – December 2002: University of Wollongong, Australia 
MSc. Chemistry 
Focus of the Master program: 
Laboratory Research Skills; 
Literature Report in Chemistry; 
Research Skills Training; 
Advanced Chemistry Laboratory Project. 
Title of the research report: 
"A water and sediment quality assessment of the northern streams of Wollongong, Australia"
September 1995 – July 2000: Military Technical Academy, Hanoi, Vietnam 
BSc. Chemical Technology 
Focus of the Bachelor program: 
Fundamentals of Combustion and Explosion; 
Manufacturing technologies for high energetic materials; 
Safety in manufacture and storage of high energetic materials. 
Upper Management / Consulting profesionals
Professionals from different sectors near Hanoi, Ha Nội